Office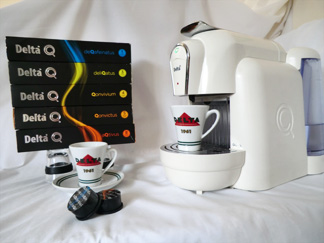 Whether you want quality coffee for meetings or to make sure your staff is getting a great coffee, we can cover all variations. We do not underestimate the value of quality coffee in the work place. It creates a feel good mood for the staff and it also creates a great impression to visiting clients. It can become a talking point and an icebreaker.
We have a variety of solutions to give you what you need when it comes to coffee in your office:
Machines
Delta Q – capsule based espresso machine ideal for small offices or meeting rooms
Bravilor Bonamat – filter coffee maker ideal for meetings
Saeco Primea Touch Cappuccino – state of the art automatic coffee machine that creates gourmet coffee at the touch of button.
Coffee - Oro
This is a very smooth and mild tasting coffee to suit most palates. Resulting from a rigorous selection and combination of the best sources of Arabica and Robusta coffee beans, we offer you all the purity of a coffee with body and strength, excellent aroma and mild flavour of ripe fruit. This coffee is excellent for Lattés and Cappuccinos.
We can accommodate other requirements such as tea, hot chocolate, take-away cups, sugars and other hot beverage requirements.
Just contact us to discuss the best solution for you.